Jan 3 2014 in conscious creator by Bridgett Hart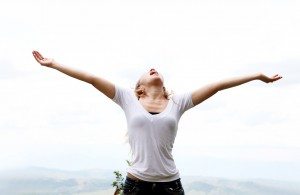 2013 was such a rush.
When the year began, I truly had no idea what a journey it would be.
I knew I was tired of punching a clock and being undervalued, under-utilized, and ultimately, under-paid.
I had a theory that I could start my own business, be the one in charge of the product I was providing people, and replace my little bit of income.
What happened instead was the most life-changing year of my life.
I won't name everyone that supported me along the way in this post, but when I went out looking for mentorship and wisdom, I found it in spades.
People were so happy to give me advice, answer questions, or just listen to me as I made my transition.
I reached out to people who were coaches, successful business owners, political leaders, and generally, movers and shakers in their world.
I was given resources, books, videos, and (most importantly) TIME from these people who owed me nothing and could have easily excused me as someone who couldn't "afford" to pay them for their time or talents.
In my first job working with kids over 20 years ago, I learned this lesson =
love is spelled T-I-M-E
(thank you Brad Bramlet!)
Now there are a lot of ways to show love, but the most powerful one I've found over these 20 years is the gift of time.
So, I was successful in starting up two businesses during 2013.
With Hart Connections, I was able to support 25 + people with business, life, and love coaching.
I'll write about some of those success stories in another post but long story short, it was AMAZING.
I saw business started and expanded.
I saw true love materialize for incredible women.
I saw people blast through their obstacles and begin truly living their dream life.
Some clients just needed one talk to help them see a different perspective and get back on track.
Some have maintained ongoing relationships with me and are continuing to transform their whole person.
With In-House HR, I was able to work with ten different businesses to help them find, train, and keep awesome staff members.
Every person I recruited has improved operations dramatically and exponentially multiplied the positive effect I was initially hoping to have in my business.
So, while I didn't quite replace my income in the first year of entrepreneurship, I felt great about identifying my strengths and how I could put them to work to leave this world a better place when I leave than when I came.
I figured out how to identify problems and find solutions.
Which brings me to the main point of this post.
One of the biggest problems I saw last year was that the people who truly needed my help, and were reaching out to me for it, were people who couldn't "afford" a coach.
At least, not at the prices many coaches charge at over $1000/month.
I played with my pricing a lot during the year, trying to find the "sweet spot" where both the client and myself felt good about the transactional side of coaching.
I asked a lot of coaches about their pricing strategies and heard a lot of similar answers that all sounded great to me… "charge at least $100/hr", "only set up membership programs so people have to pay every month", and "I charge $1000/month for each client".
Unfortunately, these numbers didn't sound as great to the people that I actually had an audience with.
And so, instead of supporting 150 people with life changes, I only helped 25.  Because I didn't want to do it for too little.
Then, I read this post by Emelie Archer Pickett and realized exactly what I needed to do.
She, of course, is extremely eloquent in her explanation of why she decided to switch from set prices to a "Pay What You Can" model and I completely agree with every sentiment and thought she had about it.
I want to help more people do more awesome stuff.
And so, in 2014, I've decided to drop all the "pricing" I've tried to figure out and switch to a purely "pay what you can" model with only one goal for the year…
To help 1000 people reach their next level. 
I'm going to do it via group coaching, individual coaching, and whatever other methods or platforms you need from me.
Now, I realize I'm worth the $1oo/hour + I can charge, but what good is a price tag if the ones I want to support can't pay it?
So, welcome to 2014.
The year you ARE going to change your life.
I can't wait to help you!
If you're interested in coaching, complete this questionnaire and we'll get it started…on YOUR budget.
2014 is going to be the BEST YET!